TO JOIN
MEMBER BENEFITS
To find One More Way to connect to a job lead, find the perfect candidate, or locate a valuable agency resource!
Social Security Fast-Track Disability Processes Get Even
Faster New Rules
Will Further Speed Benefits to Tens of Thousands of Americans with Disabilities
The Sierra Group is proud to offer CART services (Communication Access Realtime Translation) for all
Check out a TV clip
of one of our CART service providers (ACS) on the Chicago NBC Affilitate!
WELCOME TO
"ONE MORE WAY "
BE SEEN, BE HEARD,
BE HIRED

First Annual ONE MORE WAY Award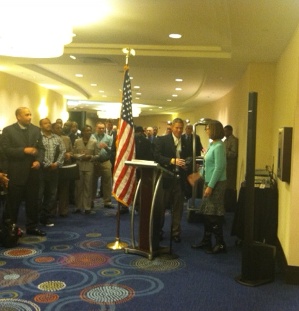 Larry Slagel, VP of Sales for RecruitMilitary, accepts the 2011 First Annual "One More Way" award from Janet Fiore, CEO of The Sierra Group at the RecruitMilitary Veteran Opportunity Expo on February 23, 2012. RecruitMilitary was recognized for their support which resulted in awareness and job opportunities for people with disabilities.
Read the press release in PDF format.
Please help us with our 2013 annual appeal!
Please help us continue to help drive up the rate of employment for persons with disabilities, including veterans, with your charitable tax deductible donation. For more information, go to The Sierra Group Foundation Annual Appeal.
An innovative employment collaborative helping to match diverse candidates with disabilities, including veterans, to over one million businesses, agencies and service providers.
"Connecting Job Seekers with disabilities
to businesses looking to hire
is what we do."
-- Janet Fiore
CEO, The Sierra Group, Inc.
Board Chair, Founder - The Sierra Group Foundation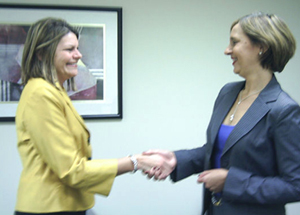 Vickie Peirano Thompson is the Columbus Branch Manager, UCB, Inc. Vickie's company proactively recruits and hires people with disabilities.
"As a Business Ambassador to the One More Way project, I encourage hiring managers, agencies and Job Seekers across the country to tap into this diverse recruiting resource" - Vickie Peirano Thompson
BREAKING NEWS!
On the 20th anniversary of passage of the ADA Jim Langevin breaks barriers and fights for all of us - proud he's a Member of the US Congress.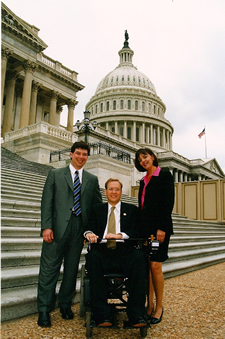 On Monday, July 26th - the 20th anniversary of the passage of the Americans with Disabilities Act - he became the first Member of Congress in a wheelchair to preside over the House of Representatives.
Quadriplegic To Preside over a House
See MSNBC Video clip of this historic event!
Jim Langevin talks to CNN's John King as they discuss his historic day prisiding over the House.
NOW FEATURING – OneMoreWay to find Federal Job opps!
SEE many of the federal government jobs posted in response to OPM's new and innovative selective hiring initiative! Be Hired!
ADA Amendments Act - What you NEED to know! READ this article by leading experts, Janet Fiore, CEO & Jill Fisher, Esq.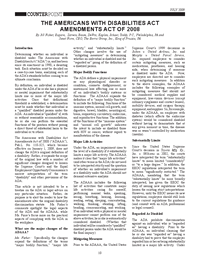 The July 2009 edition of Counterpoint, The Official Publication of the Pennsylvania Defense Institute features an article written by subject matter experts Janet Fiore, The Sierra Group, and Jill Fisher, Esquire, Zarwin, Baum, DeVito, Kaplan, Schaer, Toddy, P.C. Pennsylvania Defense Institute Counterpoint July 2009
This published article is a quick reference for any hiring manager, human resource or rehabilitation professional who needs a clear, factual update on the changes to this important piece of civil rights legislation. Fiore and Fisher consult and speak on this topic locally, regionally and nationally. Contact us for more information on a presentation or consultation.
Read the full article in PDF format.

372 K (opens in a new browser window)
Many veterans with PTSD struggle to find supportive employment
Experts say simple accommodations can greatly improve their success in the workplace, but many employers are still wary of hiring those with mental disabilities.
Read the full LA Times article.
GIFT WILL HELP SIERRA GROUP FOUNDATION FIND JOBS FOR VETERANS WITH DISABILITIES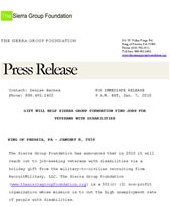 The Sierra Group Foundation has announced that in 2010 it will reach out to job-seeking veterans with disabilities via a holiday gift from the military-to-civilian recruiting firm RecruitMilitary, LLC. The Sierra Group Foundation is a 501(c) (3) non-profit organization whose mission is to cut the high unemployment rate of people with disabilities.
Read the full press release in PDF format.

59 K (opens in a new browser window)
The Equal Opportunity Commission Votes to Approve a Notice of Proposed Rulemaking.
The Equal Employment Opportunity Commission (EEOC) has voted to approve a Notice of Proposed Rulemaking (NPRM) to conform its ADA regulations to the Amendments Act of 2008. The NPRM was just published in the Federal Register on September 23, 2009.
Janet Fiore, CEO, The Sierra Group Inc. says "I concur with Congress that this new law restores the intent of ending civil rights discrimination for this, the largest group of unemployed/under employed Americans."
For assistance regarding accommodations, stay at work, return to work or to find qualified applicants with disabilities contact www.thesierragroup.com – 800.973.7687. "Together, we will drive up employment shipping for four, to for Americans with Disabilities, including Veterans."
One More Way Member United Collection Bureau, Inc. (UCB, Inc.) Ohio Employer of the Year for Hiring People with Disabilities!
Photo: left to right - Vickie Periano-Thompson - UCB, Inc.; Terri Zeigler - UCB, Inc.; Dustin Grand - staff; Jeff Horner - UCB, Inc.; Jennifer Brunner - Ohio Secretary of State; Janet Fiore - The Sierra Group, Inc.
The Sierra Group applauds One More Way Member UCB, Inc. on receiving Employer of the Year from the Ohio Governors Commission on Disability. "UCB, Inc. has been both dedicated and profitable as a result of hiring candidates with disabilities through us," said Janet Fiore, CEO of The Sierra Group. "using our business to business consultative recruiting model, UCB has integrated more than 30 employees with disabilities into their Ohio workforce." In a tight economy when layoffs prevail, and candidates are numerous, UCB's Vickie Thompson stated that "we always recruit more candidates with disabilities. They've strengthened our workforce in more ways than I ever expected."
See the press release (

PDF 22K) to learn how UCB, Inc. and The Sierra Group plan to take the model to the community at large.
Read the ThisWeek newspaper article, State names local firm UCB as Employer of the Year.
For more information please go to the Program Archives tab of WUAR Upper Arlington Radio to hear an interview with UCB's Columbus manager, Vickie Thompson, and Janet Fiore of The Sierra Group, Inc.. Once the On-demand player pops up select show which is labeled: Talk@Ten 9 3 09.
Are you a Veteran with a disability currently enrolled in college or graduate school?
Put your knowledge, skills and experience to work in a paid summer internship with a major U.S. corporation.
For more information and to apply. MS Word - 80 K (opens in a new browser window)
FROM CAPITOL HILL TO CONSUMER, AND BACK AGAIN – One Man's Journey
Kent Keyser, Chief of Staff, Congressman Nick Rahall, & Janet Fiore, CEO, The Sierra Group.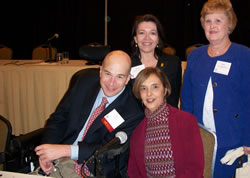 Photo of Kent Keyser, Janet Fiore, Eleanor Williams, NARL President, and Bonnie Hawley, President National Rehab Association
We at The Sierra Group are committed to driving up employment for people with disabilities including veterans. In our Candidate Sourcing, Workforce Strategy and Vocational Rehabilitation divisions we have the privilege of serving businesses, agencies and consumers on a daily basis.
Never has that privilege touched me more than when I had the opportunity to assist Kent Keyser in his journey back to work. All of us at The Sierra Group fully support Kent's desire to engage in research that can help him continue working full time, while helping others in the future to be more able to do the same. Please read the below letter written by a group of Kent's friends. We hope that Kent's story will inspire you to share and support the benefits of extensive and ongoing physical therapy as part of the vocational rehabilitation process. Janet Fiore.
Read KENT'S STORY – from the viewpoint of some friends. MS Word - 24 K (opens in a new browser window)
One More Way was created by The Sierra Group, Inc., a national consultancy on disability policy and procedures for business.