Use the One More Way™ Search Engine Powered by Google™ to find the disability information that you need.

Learn about Tele-seminars.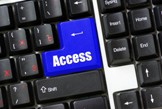 Helping people find their way.  Join as a Voc Rehab & Agency Members.

One More Way is pleased to invite government agency and community-based service providers who deliver vocational rehabilitation, job coaching, job development, and training or placement services to become members of our Collaborative at no charge to your non-profit or government agency.
Your FREE Voc Rehab & Agency – Service Provider membership entitles you to promote and access valuable information and connections such as: 
Having your agency/non-profit/service provider employment related information in the One More Way Search tool, powered by Google. This allows our 1 Million+ yearly visitors to find your information.
The ability to access, post, or edit Job Seeker customers' resumes on the One More Way Job Board.  You can help your customer maximize their opportunity on this diversity hiring site.
Directly accessing information and job leads from our hiring members to help your customers secure employment.
Promote your services to Job Seekers with disabilities, and to business members.
Participation in member discounted Tele-seminars about job development, placement and accommodating people with disabilities, including veterans.  Seminars are offered on a variety of topics by nationally recognized leaders in the field of employment and disability.  Learn about our Tele-seminars.
Join One More Way as a Voc Rehab & Agency Members
We believe that all organizations working in the field of disability and employment can offer at least 'one more way' to help consumers prepare for work, and 'one more way' to prepare the world of work to eagerly accept them.
Voc Rehab & Agency Membership in One More Way neither competes with nor duplicates what other agencies are already doing.
In fact, One More Way celebrates the similarities in services and encourages our members to share and embrace best practices … all in the name of 'driving up employment' for the millions of Americans with disabilities who are unemployed.
Our collaborative already reaches over one million participants from businesses, agencies and persons with disabilities. Now is your chance to connect with this vital and immense network.
Membership questions?
Call us at:
1-888-492-2402
Email us at:
member@onemoreway.org
Write to us at:
The Sierra Group Foundation
One More Way Project
588 N. Gulph Road, Suite 110
King of Prussia, PA 19406
---
One More Way is an 'open source' program of The Sierra Group Foundation, a 501C(3) non-profit organization dedicated to driving up employment for Americans with Disabilities, including veterans.
---