Use the One More Way™ Search Engine Powered by Google™ to find the disability information that you need.

Learn about Teleseminars.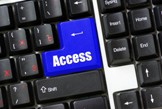 The One More Way Collaborative
One More Way™ is an 'open source' employment initiative that makes information regarding Job Seekers with disabilities, and the programs that support them, available for use by hiring managers in virtually any industry across the country. We bring everyone together to overcome employment obstacles, share opportunities, and create new connections where none have been established.
The One More Way collaborative serves as a forum for all parties involved in the area of disability and employment to come together to do together what we cannot do alone. As an open sourced, membership project, we reach small business as well as large private and government hiring managers. By including veterans and professionals with acquired disabilities, our project reaches deep into America's largest pool of untapped talent.
You're INVITED to a COMPLIMENTARY WEBINAR funded in part by a Grant from the Pennsylvania Developmental Disabilities Council
5 Signs Your Doors are Open to Employees with Disabilities - Keys to Inclusive Cultures
Expert Panelists: Louis Orslene, MPIA, MSW, CPDM Co-Director, Job Accommodation Network (JAN), and Thomas H. Earle, CEO, Liberty Resources, Inc.
Facilitated by: Janet D. Fiore of The Sierra Group Foundation
PARTICIPANTS WILL LEARN:
How to Develop and Maintain Comfort, Confidence and Competence in employing and accommodating workers with disabilities;
The 5 Signs that your Doors are Open to employees with disabilities. Everything from buildings to technology to language, relationships and policies.
How to Recognize and Respond to a Reasonable Accommodation Request – includes a video vignette, and Q&A with Employer Mentors!
Tuesday, July 26, 2016
1:00 PM - 2:00 PM, EDT
This business-to-business mentoring webinar is intended to gain valuable insights from the PA Employment Project mentor presenters.
Attendance is free of charge. Register NOW, webinar space is limited!
Or call Emily Coder telephone: 267.765.1507 x258 Emily.Coder@thesierragroupfoundation.org
The Sierra Group, a nationally acclaimed workplace consultancy, is facilitating trainings designed to entice radical change in disability hiring practices. This training is one in a series of FREE events where employers will share and mentor other employers on how to deepen cultural awareness and recruitment of employees with Disabilities.
The PA Employment Project "Employer Focused Employment" tools and training programs are funded in part by a grant from the PA Developmental Disabilities Council.
Join Us:
We invite you to join our one-million-member strong collaborative, adding your own knowledge and experience to the project, as we continue to reach closer to our goal of driving up employment for people with disabilities – starting with our veterans!
To participate, you must become a member in one of three FREE membership categories:
Hiring Members – Businesses, agencies, and organizations searching for qualified candidates (with disabilities) to fit your company's needs
Voc Rehab & Agency Members – Government, non-profit and community based groups who provide vocational rehabilitation, job coaching, and placement services
Job Seeker Members – All Job Seekers with disabilities submit your resume to be seen by regional and national hiring members
Benefits of Membership Include:
Reason #1: JOB BOARD - Unlimited access to our candidate JOB BOARD - . This one of a kind Job Board allows all of us to 'come together to do together what we cannot do alone'. Get connected to candidates and local resources. The right people, the right time, the right job with the right supports.
Featured Jobs from the RecruitDisability Job Board
Reason #2: FIND OTHER MEMBERS - "Search for One More Way" search engine – this member focused disability and employment search engine, powered by Google cuts through the vast information available on the web, and connects our members to one another for services, for jobs, and for candidates.
Do you want your organization and information to be included in the Search for One More Way search engine? Submit your website to the collaborative.
Reason #3. : Education, Information and More. Our motto, BE SEEN, BE HEARD, BE HIRED applied to our member groups of job seekers with disabilities including veterans, business professionals including recruiting, HR and compliance professionals, and of course, vocational rehabilitation professional across the country!
In order to have our messages HEARD, and to have more Americans with DISABILITIES be hired, we need to be SEEN. The One More Way Collaborative was launched in 2008 with these reasons in mind.
Members of OneMoreWay learn about industry changes, events, and more via MEMBER communications, and offers to participate in targeted learning opportunities:
LEARN AT YOUR DESK - Timely professional learning opportunities through Tele-seminars - Sharing information, knowledge and connections is what we do. One More Way tele-seminars expedite the exchange of 'knowledge' to our members and our guests. Drawing upon the industry acclaimed expertise of our presenters, these low cost, high impact seminars allow our members to learn at their desks!
"One More Way to drive up employment for Americans with disabilities, including veterans.". To sponsor a Tele-seminar or request a topic.
Reason #4: FINANCIAL INCENTIVES - Learn about and access information on current Employment Incentives when hiring or retaining a person with a disability - Finding national and local financial incentives for hiring from this protected class can be complicated , but not for visitors of The Sierra Group Foundation's Employment Incentives web portal. Information, forms and reference materials are easy to find and download.
Visit www.employmentincentives.com to see all federal incentives, and state/regional incentives for 16 states. (new states are added regularly – to sponsor a state or tell us about a new incentive opportunity.
Additionally, One More Way is a great way to SHARE AND GROW. Free Membership in our million member strong collaborative lets you communicate with experts in the field of employment and disability. And for job candidates; we think we have what you're looking for and we are eager to share!
In order to have our messages HEARD, and to have more Americans with DISABILITIES be hired, we need to be SEEN. The One More Way Collaborative was launched in 2008 with these reasons in mind.
Contact Us:
Call us at:
1-888-492-2402
Email us at:
member@onemoreway.org
Write to us at:
The Sierra Group Foundation
One More Way Project
714 Market St., Suite 302
Philadelphia, PA 19106
---
One More Way™ is an 'open source' program of The Sierra Group Foundation, a 501C(3) non-profit organization dedicated to driving up employment for Americans with Disabilities, including veterans.
---